Event date
Start time
4:45 (pm)
Event description
Exposition
« LES RÊVEUSES »
DANIELLE LIGET & PAULINE PÉZERAT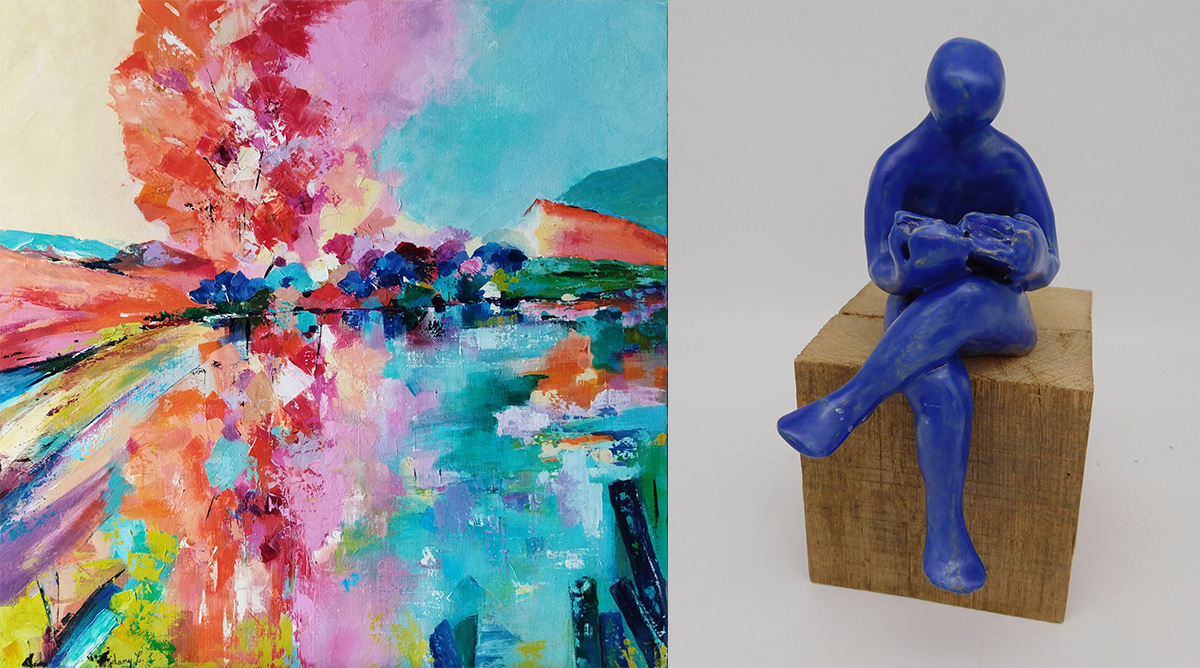 Danielle Liget
Après avoir pratiqué l'aquarelle, Danielle peint aujourd'hui des acryliques et huiles réalisées au couteau et au pinceau, dans un style semi-figuratif guidé et transformé par les couleurs et l'imaginaire. Elle évoque principalement des paysages aux teintes acidulées et gaies. Elle recherche la vibration d'un monde rêvé, comme un hommage à la beauté. Elle peint aussi quelques personnages féminins, oniriques ou poétiques.
Peinture
Pauline Pézerat
Son art premier est la danse, qu'elle enseigne à Tours. Bien plus tard, elle découvre la céramique, un matériau qui la renvoie à sa part d'enfance et prolonge son expérience sensorielle. Ses œuvres s'organisent autour de thèmes tels que « Entrez dans la danse » ou « Arborescences ». Avec Danielle Liget, elle forme le duo intitulé « Les rêveuses ». Leurs univers entrent en écho dans un dialogue de formes et couleurs. Les rêves de Pauline ne sont pas du vent, ils s'incarnent dans l'argile et se partagent avec le public.
Sculpture
Je n'ai aucun intérêt financier dans ces lieux cette sortie est à but non lucratif pour moi, je vous propose simplement d'y participer en ma compagnie et de passer un moment convivial.
Multiple registration possible?
Maximum slots available
YesEx: John (+2)
6
Exact address
meeting location
To know the exact rendez-vous point, log in!
To know the exact rendez-vous point, log in!
List of registered members
(6/6 , available: 0)